Online Business Directory
reach local customers
Get found where your customers search
Your business, listed where your customers are looking!
Reach new customers, increase your sales
According to a Google study, 80% of consumers regularly query search engines for local business information, with half of them visiting a local business within a day of the search.
Our exclusive Business Directory service can now have your business listed and updated live through our network partners.
Packaged for small business
Get found in the most popular directories, from any device.
Select
Up to
24
Online Directories
Add your website, with one click!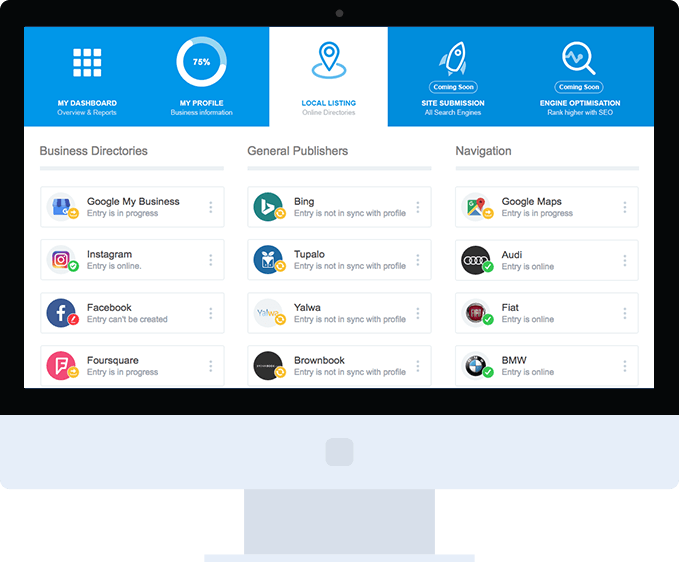 Easy and Simple

Enter your business information and your listing will be distributed to all selected online directories with a return confirmation.

Guaranteed Listings

Our automatic data checks will check if all directories entries are valid and updated, ensuring you a guaranteed listing.

Always Expanding

We are always adding additional updates, directories, and specialised industry sites. As we expand so will you, we never stop growing.
Advantages of Business Directory
Grow your business, and go where your customers are
Get found online quickly and easily
Customers are using PCs, laptops and mobile devices anywhere, any time, and every day. Make sure they can find you and get the information they need immediately: our local Business Directory lists your business on over 22 platforms.
Your information updated everywhere
Many platforms use different data sources. However, these can be incorrect, incomplete, or your company is missing. Our directory service has direct access to more than 22 platforms, and will ensure all information is correct.
Improve your Google search listing
The number of business entries you have online has a huge impact on the ranking of your company in search engines. It is a sign of the credibility of the company, ranking you above lower quaility competitors.
Customer Feedback Monitoring
Improve your reputation and read what your customers are saying.
Whether you like it or not, your customers are talking about your brand. About good experiences and bad. Their experiences will be shared publicly on the web - as comments, reviews, ratings, likes, check-ins and photos.
The only problem is: how do you monitor and make sense of all the social content out there?
Our Business Directory reputation hub is the solution, it monitors all the content users create about your business on Facebook, Google, Foursquare and other websites and gives you first-hand what your customers think and say about your brand - and allows you to take part in that conversation.
This is an insanely valuable asset to any business planning and now can be purchased additionally with any Business Directory plan.
Your Questions, Our Answers
What is the essence of a Business Directory?
Business Directory serves as a guide to help you find local businesses whether it's a gym, dance studio, hotel bookings, or Japanese restaurant. A directory maximises the potential of businesses to generate sales and establish recognition for prospective customers. Most customers browse directories to directly look for businesses that interest them and match their needs.
How do you attract customers using a Local Business Directory?
Make the details short and inviting
The details of a local business directory is basically including name, address, phone number and social media sites. However, they also help to make your company sound unique, make your address accessible without using maps, your contact numbers available, and your social media memorable. This way, the information itself may be general, but the details will catch a potential customer's eye. Make sure the information united so your customers are always updated to the changes you make to your website and business.
Use the trick of discounts
Include discounts and highlight your affordable services because everyone loves a bargain. This is an ideal strategy because customers like to try your products without spending too much. This is also a marketing technique to help publicise your brand and influence other interested shoppers. Local business directories work like a magnet, pulling customers to your website.
Always be consistent
If you remain true and loyal to your promises to the customers, there will be no reason for them to ever leave. For this strategy to work, always be consistent with your deals, deliver quality services, and stay competitive. If you are selling locally in a London business directory, make sure shoppers can enjoy annual discounts, and receive quality services the same way every day - that's how consistency works.
Incorporate a professional logo
Love at first sight may not just be applicable to rom coms; it is also effective in professional branding. How? Tag your eCommerce promotion and find the resources to create a good logo, not just to attract customers but to also capture their hearts. People who use directories appreciate good images and strong designs. If your business listing has a designated logo for its promotions, expect to capture the attention and interest of customers.
What are the advantages of UK Small Business Directory?
Your merchandise gets noticeable easily
In Europe, businesses grow because of increasing demand from customers. As part of this competitive eCommerce environment, companies make sure that their merchandise is part of a UK business directory to be quickly noticed byl UK community.
Your budget doesn't need to be large
Using an online business directory is both economical and convenient. Most businesses struggle in advertising their products and services because they perceive marketing and web development to be expensive. However, a directory listing is a good choice because it requires only the comprehensive details from your corporation to achieve instant brand recognition. Also, you can edit important information changes any time you want.
Grow your customers quickly
A directory listing is a wise option for all businesses to be recognised. Compared to content marketing that can involve blogs, press releases and product descriptions, directories only need the fundamental information from your establishment listed in them. Furthermore, directory listings are simple, easy to craft, and convenient to maintain.
Your trade's industry may take you far
From little things big things grow. In order to achieve success as a startup, brand recognition and consistency are two fundamental ways to maximise your return on investment. If these two are managed well UK small business directory listings there's a greater possibility that your business can grow to global influence.
How can a Business Listing help your business?
It improves your brand's presence
It is worthwhile to invest in directories and other marketing strategies because you can be sure your competitors are already doing it. Without these techniques, your offers will be irrelevant. Therefore, stay competitive and incorporate all of the interesting details of your company. Include history and other notable experiences that will lead people to buy your products. This is helpful for people who will look up your services in a Manchester business directory and give you an opportunity to expand your products and services to other cities and other places with potential customers like Birmingham.
It markets your services direct to the customers
Many customers prefer to browse directories to find an interesting shop that will match their needs. With your NAP (name, address, phone number) included in a directory, your target customers can easily find you and recognise the type of services that you deliver. This way, you can establish direct communication and start conversations with them. No matter what kind of methods your trade system runs, business index will show the changes you've worked hard for to improve your industry.
It can help grow your startup
UK business listings help promote your trade or industry. One thing that makes this sector extraordinary is its ability to give your business an identity and potentially expand it globally. Your customers, especially if satisfied with the services that you shared will leave positive feedback and recommend you to others. This can greatly improve your company's reputation and increase your number of customers -- not just from the British community, but even from around the world.
What are the benefits of Business Directory Software?
You can increase business exposure for free
Using a UK business directory will help you to increase the exposure of your local business because many people will search for this specific directory. Also, if you want to expand your startup and reach more of your target customers, you can consistently promote your trade through your social networking sites.
You will be recognised as legitimate and professional
Customers are wary who to trust when it comes to online businesses. Your customers will trust you, and will choose you over a competitor. Business directory software helps businesses gain loyalty immediately because people are more interested in an online business with a trusted reputation. Yahoo results rank most highly trusted websites, so make sure that your business is a part of it.
You have an advantage in social media
Business directories UK are recognsied and trusted sources of businesses' name, address, phone number around the United Kingdom. Social media promotion is also very important for any type of industry. In online directories, you can include your social networking profiless, along with necessary details in your advertising, such as the store's opening and closing times, special offers, payment optionss, the location of other branches, and other information necessary for your brand's recognition.
Why Choose Business Directory Listing?
It is fast and effective
Many different eCommerce websites are growing enormously nowadays. Social media marketing and other marketing approaches have businesses competing fiercely, since brand awareness is the ultimate key for your identity. Using a London business directory works more effectively to market new products and integrate brand recognition because people locally can find you quickly. You can also convert buyers immediately, since a directory contains the complete details that people need to know about your company.
It is both timely and cost-effective
Directories are affordable and effective, especially for eCommerce startup entrepreneurs. It is one way to tell people about y whether your business is family-or independent-owned. Even l now, it is still one of the most effective ways to campaign your business. The new business directory however, gives every eCommerce industry a single opportunity to escalate general income, achieve greater brand recognition and be discovered in just one search of the internet.
It promotes professionalism
Company directories are excellent tools to promote good quality from top local products. Although a startup business has limited scope in the market, it should still values a good name and professional impression to be more effective in its marketing strategy. This way, customers won't hesitate to choose your products and can be confident that they are investing with a professional entrepreneur. Professionalism is very important since it's a promise to the customer before they rust their money on your products.