Buy SSL Certificate
The standard for website security.
EXCLUSIVE OFFER
-
Get up to 30% off on
SSL certificates
Secure your Website
Crazy Domains SSL Certificates provide the highest levels of industry standard security to conduct safe, secure eCommerce transactions, protect passwords, credit card numbers and most importantly, to secure your customer's information.
Secure your Business
The SSL Certificate will secure your website and your customer's browser so all information they enter on any secured page is protected.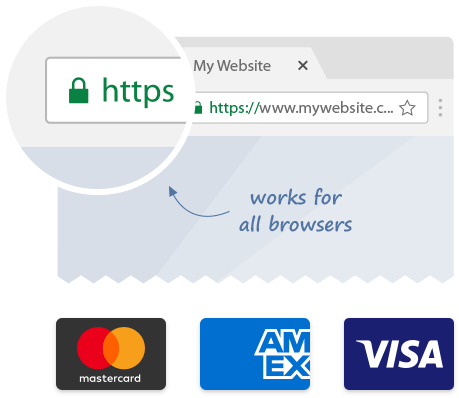 WORLD'S STRONGEST ENCRYPTION
256 Bit Encryption

World Leading SSL

Trusted by all Browsers

Trusted by Google

Strongest Encryption
Choose your SSL type
Standard
Ideal for blogs, social media
& personal websites
Buy Now
Premium
The most secure SSL for
business websites
Buy Now
Wildcard
For business websites
with multiple sub domains
Buy Now
Features with all SSL Certificates
Setup on any domain

Trusted by all browsers

Validation Confirmation

24/7 Tech Support

30 Day Money Back

Unlimited Free Reissues
Increase traffic with SSL
Google has now introduced HTTPS as a ranking factor in the search engines and favours websites with SSL encryption. Give your website a nice boost within Google ranking by connecting any SSL's to your domain name.
Strong encryption
Crazy Domains SSL Certificates converts your data into virtually impenetrable code using data encryption up to 256 bits.
Our certificates also use the most secure encryption available and support both SHA-1 and SHA-2 algorithms. The security of your site is our number one priority.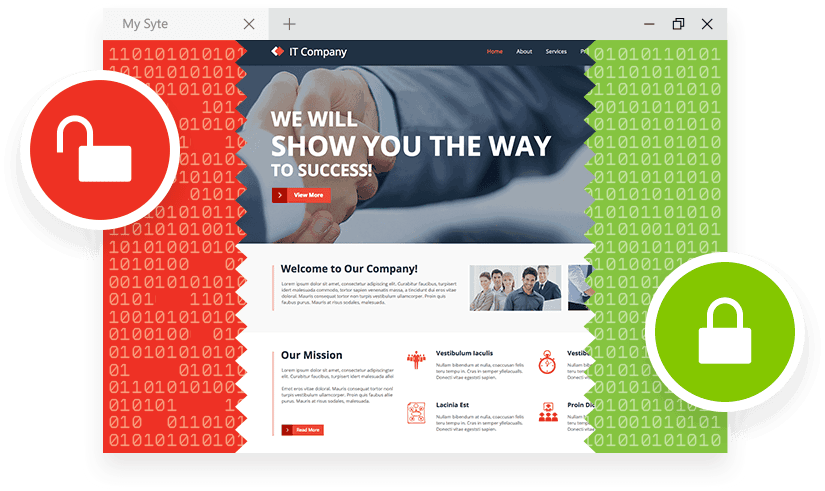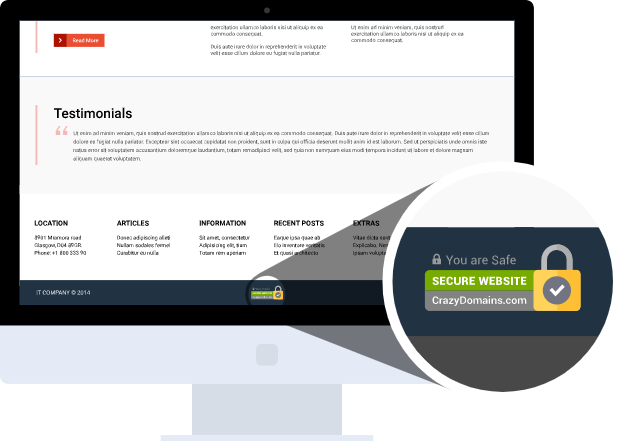 Fully verified SSL
All Premium SSL Certificates come with a click-to-verify site seal. Displaying the seal on your site shows your customers your site is fully secured and you mean business, building a trust connection.
How do SSL Certificates work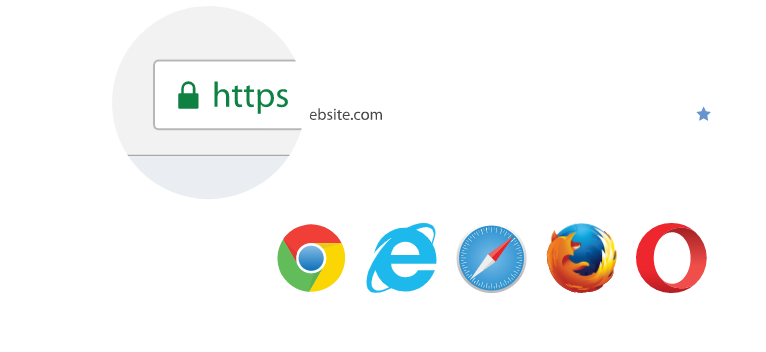 SSL (Secure Sockets Layer) is the standard security technology used to establish a secure encrypted connection between a browser (user's computer) and a server (your website).
The SSL connection is encrypted and will secure sensitive data, such as credit card information, logins, passwords, forms and all over data exchanged during each user visit (session).
Anyone can identify if a website is secure, view the browser address bar, if you see HTTP this means the website does not have a certificate installed, if you see HTTPS (S' stands for 'secure') this mean the website is secure and contains a SSL certificate.
After you purchase your SSL Certificate, we will connect it to your domain name to ensure your hosting is secure. If your domain is registered with another provider we will provide you the certificate so you can install manually.
What our Customers are Saying
SSL Certificates
Protect your website and build trust with Crazy Domains SSL certificates. Encrypt data, ensure secure connections, and boost your website's credibility.
Rated
4.7
/5 based on
3
customer reviews
I am the owner of Kiwiearthmother, which comprises a blog and The Kombucha Shop. I purchased SSL to provide customers with a secure portal for processing transactions. Crazy Domains set up SSL really quickly so I was up and running in no time.

The Crazy Domains SSL Certificate was easy to setup and effective. It's as simple as that. With all the things going on in a business, the last thing I want to think about day to day is whether my site is secure. I can now get on with what I do best - serving my customers.

I have used Crazy Domains since 2009 and have never been disappointed with the service. The only company I use and will continue to use well into the future.
Your Questions, Our Answers
What is an SSL certificate?
Since your website contains important information about your business and your customers, it's essential to make sure it is properly protected from hackers and other cyber criminals. One of the best ways to do this is to buy an SSL certificate.
But what exactly is an SSL certificate? Let's start by breaking down the acronym and understanding what it means. SSL stands for "secure sockets layer", which is a type of security protocol that is designed to safeguard sensitive data as it is transmitted from one computer server to another. It also ensures that information is exchanged only between the right two end points to prevent phishing, data forgery, and other such malicious cyber activity.
SSL certificates are small computer files that are able to digitally combine the SSL encryption with a website's details. They are issued by trusted Certification Authorities. If you buy this certificate and install it in your web server, you can effectively secure the connection between your website and your visitor's browser. This way, your communications and transactions will be kept safe from prying eyes. This kind of protection also provides other benefits, including improved ranking in search engine results. This is because Google, Yahoo, Bing, and other popular search engines place importance on the level of security a site offers.
What are the indications of a secure website?
There are several signs or indicators that indicate the website you're visiting is properly protected. One is the appearance of a padlock icon on the address bar of the web browser. If you buy an SSL certificate that provides maximum security, your visitors will notice their browser bar turning green when they type in your website's URL. They will also be able to see a secure seal on your homepage, which is a viable sign that your site has been authenticated and is appropriately protected. Another common indication that a website is secure is if its URL starts with "https" instead of "http".
Why is SSL certification good for SEO?
Aside from helping protect your private information, obtaining SSL certification is also good for SEO. Major search engines like Google, Bing, and Yahoo place a higher value on websites that invest in this kind of additional security. It shows them that you are an authentic and reliable business that is worth recommending to online browsers. Google, most especially, has announced that they provide a certain ranking benefit to sites that implement this type of protection.
These days, sites that have active UK SSL certificates are actually shown to users by default and they tend to appear at the top of search results. Such a place is prime online marketing real estate for any business as it is one of the best ways to draw in more potential customers. To make sure you continue to enjoy this ranking advantage, you must remember to renew your certification on time every year.
How to choose the best SSL certificate for you?
Consider your website type
Different kinds of websites require different levels of security. If you're running a personal site or blog, standard SSL certificates from the UK would be the ideal choice as they offer optimum protection at a more affordable price. But if you have a business or e-commerce site where consumers will be entering private information like credit card details, you'll need to get an SSL certificate that uses the latest Extended Validation (EV) technology because it offers maximum security. This way, you can ensure your customers' data will be protected.
Factor in your sub-domains
Another thing you must consider before buying this kind of online security is the number of sub-domains you plan to create for your website. If you currently have or are thinking of setting up multiple sub-domains such as www.blog.yourbusinessname.com, www.newsletter.yourbusinessname.com, www.support.mysite.com, and www.marketing. yourbusinessname.com, it would be best if you purchase a self-signed SSL Wildcard certificate. This way, all of your domains are safeguarded from eavesdropping and tampering. You also benefit from the convenience of renewing only one certification for your entire site.
Think of your budget
Although certification payment and renewal usually happens only once a year, this kind of investment is still a significant expense. This is why it's important to consider your company's budget. Self-signed SSL certificate costs often vary depending on the type and level of security offered. Certifications that provide standard protection for only one main domain are typically less expensive than those that offer security for multiple sub-domains.
Here at Crazy Domains, we understand the difficulty of looking for an affordable web security solution. We want to make this part of setting up a website easier for you, so we've come up with a host of options that allow you to buy the cheapest SSL certificate while still enjoying top-level protection for your site.
Determine your required issuance speed
Before you purchase an SSL certificate, consider how quickly you'll need it installed in your server. Certifications that offer higher levels of security often take longer to issue because Certificate Authorities (CA) will need to take into account more factors during their vetting process. Some may require only a few hours, while others might take a few days.
If your site is ready to accept online payments from customers, you must buy an SSL certificate in the UK that can be issued immediately. This way, you can secure your site right away and avoid missing out on any potential sale. Here at Crazy Domains, we issue SSL certification within 24 hours of payment. A notification will be sent to your email after you buy the package and you can then begin the installation process.
Consider the warranty
Make sure you check the SSL certificate you're contemplating buying to determine how much monetary warranty comes with it. This warranty indicates the amount of cash the CA will reimburse to consumers if they experience fraud while transacting with an SSL certified website. Usually, the higher the amount is, the more consumers are likely to trust and have confidence in you because it indicates the strength of your commitment to web security. At Crazy Domains, our SSL packages come with different warranty amounts, depending on the level of protection you require. All you need to do is buy the one that best fits your budget and needs.
Find out the level of customer support
Buying a cheap self-signed SSL certificate can be pretty straightforward. But there may be times when you need assistance from professionals, especially if your customers have questions about your site's security. These kinds of issues may pop up at any time of the day and you need to address them immediately. This is why you must choose a company that offers 24/7 customer support. You also need to find out if the customer service representatives will be available to you through several means of communication, such as phone, email, and online chat.
Here at Crazy Domains, you can get in touch with our customer service specialists any time of the day, seven days a week. They can help you with any concern you might have, from answering the question "What is an SSL certificate?" to explaining how you can choose the best cheap SSL certificate UK for your needs.
Why should you buy a Wildcard SSL certificate in the UK?
Great for sites with multiple sub-domains
One of the biggest draws of buying a Wildcard SSL certificate in the UK is that it enables you to secure an unlimited number of sub-domains. This is especially beneficial for business websites as they typically create several sub-domains for specific areas of their operations like the blog, newsletter, emails, and events. Thanks to the Wildcard security option, online entrepreneurs will be able to protect all their sites without having to buy and install multiple certifications. Plus, this kind of cheap yet useful certification is usually issued quickly, so you will be able to operate with minimum waiting time. This way, you won't have to worry about losing out on potential sales from their target clients.
Easier to manage
Many businesses think that buying multiple SSL Certificates on one IP address is the norm when it comes to securing their sites. Although this strategy might work, it often requires a lot of work from webmasters. They'd have to deal with installing each certificate and monitoring them to make sure renewal deadlines are met. This can take a long time, especially if you have a lot of websites or sub-domains to manage. Thankfully, if you buy Wildcard SSL certification, you don't have to worry about this. You will be able to focus your time and attention on tasks that are more essential to your business bottom line.
More affordable
If you're looking for a cheap SSL certificate that offers reliable protection for your site and sub-domains, Wildcard SSL is the most ideal choice. It may seem more expensive at first glance, but when you consider its long term effect, you realise that it is actually a worthy purchase. With the Wildcard option, you would only need to pay for one certification and you would only have to do it once a year. In the long term, this is considerably more cost-effective than shelling out money for multiple SSL certificates.
How to install an SSL certificate?
The specific steps of how to install an SSL certificate depends on the server and operating system you are using. But here are some general guidelines you must follow to ensure the process is successful:
Obtain a CSR
Before you can create an SSL certificate, you will need to get a certificate signing request or CSR. This is an important encrypted identifier that you will need to make sure your SSL certification functions well. To be specific, the CSR determines which server will use your certificate. This will also identify the main and sub-domain names that you'll be using. The kind of CSR provided will depend on your operating system as well as on the type of certification you choose.
Wait for the validation notice
After you've purchased SSL protection for your site, the next step is to request the security provider—in this case, Crazy Domains—to generate an SSL certificate for the main domain name you want to use. This will prove that the certification is truly owned by your company and is meant for your specific website. After this request has been processed, you will receive a notification email to confirm that your certification is ready. This will usually take 24 hours, by which time the SSL will be active and all set for use.
Proceed with the installation
Once you've generated your CSR, paid for your web security package, and completed the validation process, you are finally ready to install your SSL certificate. Crazy Domains typically provides the certification through email. It will be attached as a text file with certain encrypted data that your web server will recognise and use once the installation is compete. As mentioned earlier, the specific installation process will depend on the server and operating system you are using. You can refer to our Help Page for more information on the right steps you must use if you're using an Apache, Tomcat, and other such server types.