Renew Domains
express domain renewal
FREE with all Domains
Domain management
Web forwarding
Email forwarding
Buy More, Get More
The more domains you register or hold under management, the cheaper your domains will be for new registration and renewals.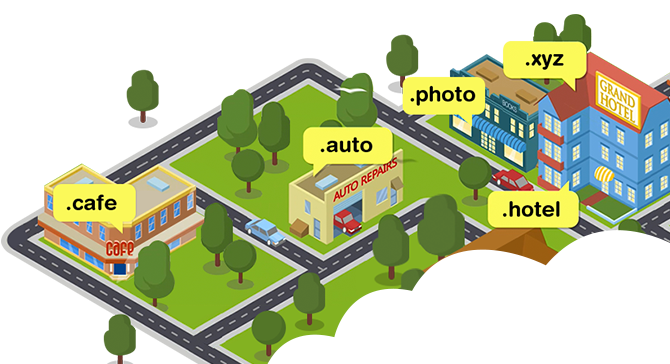 Now Available
New Domain Names
Cheap domain Renewals
We like to keep things easy and fast! Enter your domain name above to start the express renewal process. If your domain name is registered with another company, you can enter it in the renew box above and we will transfer and renew your domain in one hit.
Easy renewals via Auto Renew
For the ultimate level of domain security, Crazy Domains offers an Auto Renewal feature which will automatically secure your domain name when it is due for renewal. Simply ensure that Auto Renewal is enabled when you purchase, transfer or renew your domain. We will advise you if there are any potential issues with renewing your domain name.
Visa
Credit Card
Supported
MasterCard
Credit Card
Supported
American Express
Credit Card
Supported
PayPal
Account
Supported
WebMoney
Account
Supported
UnionPay
Credit Card
Supported
AliPay
Account
Supported
Your Questions, Our Answers
What is Domain Renewal?
Setting up a website, blog or professional email will never be complete without a domain name that will establish its identity. There may be multiple web address options on the market, but its registration can be complicated, and the myriad of online business owners is also overwhelming.
Domain names are averagely registered for a year to a maximum of 5 to 10 years. Technically, you cannot own your web address for the rest of your life -- that's why it has an expiration date. However, you have an option of domain renewal to extend its registration if you need it a little longer. No registrant would like to risk losing a name that established a genuine identity for their business, and especially not lose it to competitors.
The Domain renewal process is as easy as the registration. But where the real dilemma starts is when you forget the renewal date despite, the reminders sent to your account, and you end up dropping the name unintentionally.
How to do domain expiry check efficiently
Update your contact details
One of the easiest ways to lose your web address is by simply forgetting to renew it. With your hectic schedule and on-the-go tasks, there may be inevitable instances of forgetfulness. This greatly affects renewal schedule and payment liabilities you are held responsible for. Although registrars notify you via emails, the reminders may not reach you due to any outdated email address or other incorrect contact details.
Hence, domain expiry check is easy to do with your contact details up to date and your email reachable. This way, you will promptly receive all reminders relevant to your renewal, weeks or days beforehand to help you prepare and decide.
Keep track of your domains
The most common situation after you forgot to renew domain name quickly is another registrant will register and direct it to their website instead. This is a costly mistake because you will have to register another name or wait a year before you can try to register that domain name.
To avoid this mistake, it's important to manage your emails and track your domain's status constantly. Also, it is much better to use a permanent email address so you don't need to update contact information consistently. This is one way to ensure swift contact exchange with your registrar.
Choose a reliable registrar
In choosing a dependable registrar to carry your concerns and issues about domain names, you have to focus on a registrar's reputation back in the years of their service. A registrar that's accredited by Internet Corporation for Assigned Names and Numbers (ICANN), with 24/7 customer support, user-friendly websites and most importantly, a registrar that values privacy.
It is very important that you entrust confidential information to an authentic and reliable registrar so they can help you grow your business in the field of eCommerce. Registrars, like Crazy Domains, will help you register and renew your domains to improve your websites and emails for your business or organisations.
How to renew domain names
Domain name renewal can come in two forms: manual and auto-renewal. Manually renewing domains is easy. You simply enter your web name in the renew box and after a few additional steps, your web name will be valid again for another period of registration.
Automatic renewal is easier than manual renewal. Before the redemption is due, registrars will notify you through emails. We at Crazy Domains will renew it automatically as long as Auto Renewal is enabled when you purchase, transfer or renew your website's name with us. We will also advise you accordingly if there are more issues we can address in your renewal process.
How to budget domain renewal cost
Bracket your budget
Although domain renewal cost is not that expensive, a careful deliberation in your budget is still a very important factor. Ask yourself what website you will need to register? And will you redeem your domain name at the right time?
You have a convenient option of renewal extension to help you manage and upgrade your web address. Make sure to include renewal expenses in your budget so it will be easier for you to register your web address again.
Think life-long commitment
Your domain is not just a simple address for your website, but it is also an indispensable identity that defines the holistic form of your business. As business owner, you don't want to settle with fleeting business success rather, a lifetime recognition that's competitive and legitimate.
Renewing your web address is a baby step towards achieving gigantic success. If you keep on track of the dates when to renew domain and how to renew it, you can never go wrong. Mark your calendars or be sure to check your emails. Domain extension builds up recognition to convert more potential customers to buyers. It also enables you to consistently deliver products and services in order to prove your business' quality in the market.
Redeem names for an ideal length of time
The choice is yours whether you want a year of registration or more. Most registrants want to register for more than year to avoid the yearly redemption process. Whether you are a startup business owner or a veteran in ecommerce industry, you need to make sure that your web address is registered for an ideal period of time to help you keep up with your website, emails and other services linked to your web address.